One of my favorite things on this beautiful earth are kimono jackets. While they may not keep out the chilliest of breezes, they do have a tendency to tie an outfit together! Because it's an accessory more than a windbreaker, there's a lot of different ways to wear them. And each way is sure to add that flair that makes you stand out from the crowd – in the best of ways!
So start simple: you're going out, and it's warm out there, so you've got a skirt and a tank top on, and you feel like something's missing. You check the mirror and you see that the combo you've got on is a bit… bland. But you're not worried, you've got a kimono! So you slip it on, and you instantly have a far more interesting look. It's that easy, and its ease gives it that effortless, airy feel.
Or maybe you follow the trends a little more closely, and you've got your romper in the closet. Now, a romper on its own is a fashion statement in itself! But pair it with a kimono, and baby, you've got it goin' on! Or perhaps that's just not your style. Well, a kimono, in all its versatility, will bend to your will. So if you're more of a jeans-and-boots sort of gal, then don't fret: this jacket is on your side.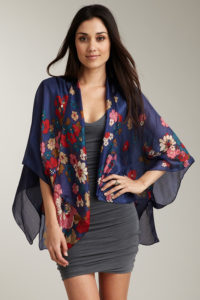 Say you're going formal tonight, and you don't have the time or the place to change into your dress before the big event. You've got a shorter, tighter dress on that looks gorgeous, but doesn't really work too well outside a less fancy atmosphere. That puts you in a bit of a pickle, until you remember you packed your kimono with you! It's just the thing to complete your look, and tide you over until the sun goes down.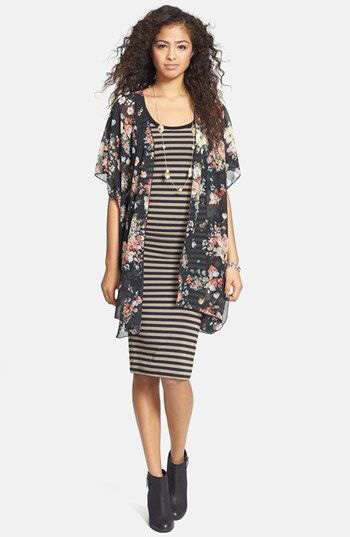 No matter what you wear, the fact remains that a kimono is a completer. When everything's right, it pulls the whole outfit together and makes it a unique, unified look. Whether you're layering it over other patterns, keeping it casual with cropped boyfriend jeans and a straw hat, pulling it over your maxi dress for a boho-chic look, or pairing it with simple jeans and booties, the kimono is the thing that ties all of those threads together, and does it effortlessly. It's the jacket that keeps on giving, and I don't ever want to see it go!